Elita ENF

2009 Rousseau x Jazz x Lancet Filly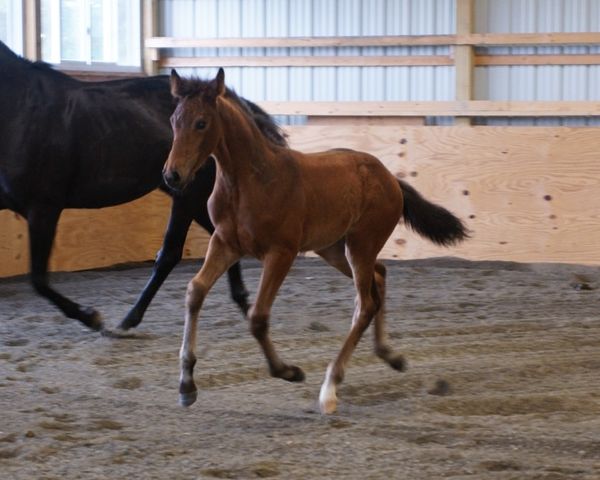 We are just thrilled about this cross. Rousseau has produced three Champions of the KWPN Stallion Show including 2004 Dutch Stallion "Blue Hors Zack" Out of Orona (Jazz – Belisar) whom was KWPN Select Sale highest priced stallion at 430,000 Euros.

Elita ENF is truely all that we had hoped for in this cross.  This little girl has been doing tempi changes in the field since 5 days old.  Three above average gaits, with an exceptionally balanced canter, powerful trot and huge overstride in her walk.  Elita is a true FEI canidate.  We expect great things from this fillly!

KEURING NEWS!!

Elita ENF (Rousseau x Jazz x Lancet) was named the #5 dressage foal in North America. We are thrilled to say the least!

From the Individual Keuring Reports by Faith Fessenden

"First place was the bay filly Elita ENF (Rousseau out of Zsa Zsa ster by Jazz x Lancet) bred
and owned by Jessica Eagles. Elegant, leggy, uphill, with a beautiful top-line and neck she
moved with good trot technique and showed an easy, correct canter. With 7.8 for conformation
and a 7.8 for movement this youngster took the Best Young Horse-Dressage award - and - fifth
place in the Top Fives."


June 2012 Update!!!

Elita has begun her next adventure in life.  She went off to be started in early June and after two weeks there is walking, trotting and cantering undersaddle.  She has taken everything in stride and LOVES to work just like her mom.  This little girl is going to be a fabulous partner for someone. I will update pictures and video as soon as possible.

July 2013 Update!!

Elita has been back to work with Jessica Eagles since April 2013.  This mare is the epitome of what we look for when it comes to temperment and work ethic, couple that with her outstanding hind end, great gaits and we for sure have an FEI canidate in the making!!  Currently schooling leg yields, shoulder-in, counter canter and ready for the canter walk transitions.  Everything you ask this little girl for she says "okay"!!  She has been off the property several times taking everything in stride.  Jessica and Elita spent three days at the Hasslers in early July, Elita marched into their indoor like she owned the place!!  So brave and confident!!!  Currently stands 16 hands.
 
September 2014 Update!!
 
Elita has been with Alex Robertson in PA since July.  Alex reports that Elita is doing great.  She trailers to different farms every week, has been schooling jumps and progressing along with her dressage training.  She is currently solid 2nd level, schooling 3rd level.  We are still looking for that special someone to bring this little mare along.  Unfortunelty I am 5'10 and too big for her.  She is a blast to ride, very brave and comfortable.  Updated video is below. 

January 2015 Update!!

Elita arrived safely in Ocala with Alex in late December.  Currently schooling and showing 3rd level.  On January 4th she rocked out her first 3rd level test 2 with a score of 69%!!  Elita will officially be 6 in May.  She is now a KWPN-NA Sport predicated mare!! 

Priced in the mid-five figures.

For Sale to a show home only!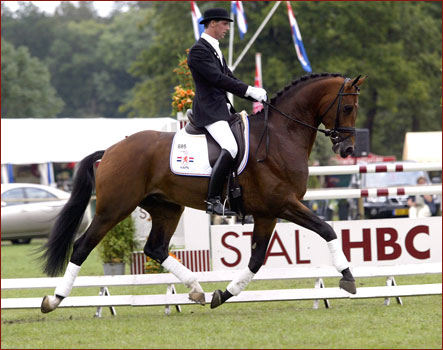 X