CCF Adel Aiden has been sold to Emily Benner of Vermont.  Be looking for this pair in not only the dressage arena but also on the Hunter/Jumper Circuit.  We couldn't have asked for a better home for this special guy!

Emma Belle ENF has been sold to Elisha Massong of Ontario Canada.  Elisha reported that Emma made it accrossed the boarder safely and has settled into her new home.  Be looking for Emma on the line this summer.  We are thirlled our little girl went to such a wonderful owner with a great group of supportive "horsey" friends!

We have added a new mare to our breeding program.  Introducing Avelina:  2005 Dutch Warmblood (Olivi x Lancet x Doruto)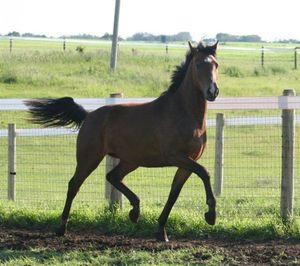 Avelina was bred by Jennifer and Jason Miller of Century Ranch in Canada.  A huge thank you to Jennifer and Jason for being the wonderful people they are and helping to make this happen for us.  What a special opportunity for us to add a mare of this quality to our program.  Avelina will be bred to Rousseau for a 2011 foal.  Please look for more information on this fabulous young mare on our mares page.